#

Instructions for Use - App
#

1.10.0
2021-03-12
Instructions For Use are supplied electronically, paper format is available on request at support@fibricheck.com
# 1. PRODUCT DESCRIPTION
FibriCheck is a software that determines heart rhythm conditions, with a primarily focus on the detection of Atrial Fibrillation with a sensitivity, specificity and positive predictive value of 95,24%, 98,11% and 94,67%, respectively.
The FibriCheck application is only intended to record, display, store and transmit photoplethysmogram (PPG) data. Recordings are performed by making contact between skin and camera of a mobile device or by skin and sensor of a wearable device. This way, volumetric changes can be detected.
The sole purpose of the FibriCheck web application, an online tool, is to display data. Professional users can use the web application to manage patients and review FibriCheck data.
# 1.1 Indications for use
Indications for use
Adults with known or suspected heart conditions such as Atrial Fibrillation can use the FibriCheck application daily, or whenever feeling symptoms, to record their pulse waveform and to monitor their heart rhythm.

Indications for use (US only)
FibriCheck is indicated for self-testing by patients who have been diagnosed with, or are susceptible to developing, atrial fibrillation and who would like to monitor and record their heart rhythms on an intermittent basis.
# 1.2 Contraindications
There are no known contraindications for FibriCheck.
# 1.3 Guidelines for use
For good results and follow-up, we recommend to perform at least 2 measurements a day and additional measurements when experiencing symptoms.
FibriCheck can be used anytime and anywhere as long as it is used on a compatible, functioning mobile or wearable device with sufficient battery. If there is no internet connection, a measurement can still be performed, but the measurement analysis will only be available after the connection has been restored as the information must be sent to the cloud for proper analysis.
# 2. CAUTIONS
# 2.1 General Cautions
FibriCheck cannot detect heart attacks or ischemic heart conditions. If you ever experience chest pain, pressure, tightness, or what you think is a heart attack, call emergency services.
A complete diagnosis cannot be made based on FibriCheck alone, consult with your physician before making any medical decision, including altering your medication or treatment.
FibriCheck does not detect or register all changes in heart rates, heart rhythms and heart waveform.
Interpretations made by FibriCheck are potential findings, not a complete diagnosis of cardiac conditions. All interpretations should be reviewed by a medical professional for clinical decision making.
Do not perform measurements while driving or during physical activity.
Do not perform measurements when the camera lens is uncleaned or broken.
After PPG analysis, the app may incorrectly identify some conditions as unreadable. Please consult with your physician.
FibriCheck does not guarantee that you are not experiencing an arrhythmia or other health conditions when labelling a measurement as regular or when feeling symptoms.
Do not continue using FibriCheck when experiencing discomfort caused by the camera flash. Try to avoid overlap of the flashlight with the finger.
Measurements can't be sent to your physician without Internet connection.
# 2.2 Users
FibriCheck is not intended to be used by all individuals:
Persons with coloured fingers/wrist (i.e. tattoos, ink); unnaturally coloured fingers/wrist weaken the signal and interfere with the effectiveness of the device (depending on the device).
Minors (below 18 years old); the device has not been evaluated in persons where the heart is not fully grown.
Persons with conditions causing tremors or the inability to hold their hand still for at least 60 seconds (e.g. Parkinson or dementia) as, in this case, the device cannot process an accurate measurement.
Persons with reduced blood flow in the fingertips (e.g. perniosis or callus formation) as FibriCheck will not be able to detect the significant intensity variations induced by the blood flow.
Persons that have a disability to perform the measurements according to the instructions for use.
Persons with cardiac pacemakers, ICDs, or other implanted electronic devices as these can control the natural heart rhythm.
# 3. COMPATIBILITY
# 3.1 FibriCheck Mobile Application
The minimum system requirements for the FibriCheck smartphone application are an Android operating system with minimal software version Android 4.4.2 or an iOS operating system with minimal software version iOS 11.1.2.
FibriCheck users will be notified when an update is available. The update of the FibriCheck Application can be found in the App Store/ Play Store.
NOTE: FibriCheck performs proactive device monitoring. If you cannot find the application in the App Store / Play Store, this is preventively removed.
# 3.2 FibriCheck Dashboard
The FibriCheck web application, an online tool, has the sole intention to display data and is compatible with:
Google Chrome (58 or higher)
Internet Explorer (11 or higher)
Mozilla Firefox (52 or higher)
Safari (8 or higher)
Users will always have access to the latest version of the FibriCheck Dashboard since its a secured website. They will be notified of the update.
# 3.3 FibriCheck Wearable Application
It is possible to link your account to a wearable device. Results of the measurements performed with the FibriCheck wearable application can be checked in the FibriCheck mobile application, since the accounts can be linked and will then be synchronized. FibriCheck is compatible with the following wearables:
Fitbit Ionic
Fitbit Versa
Fitbit Versa Lite
Fitbit Versa 2
FibriCheck users will be notified when an update is available. The update of the FibriCheck Application can be found in the Fitbit App Gallery.
# 4. SET UP YOUR PERSONAL ACCOUNT
You need a personal account to monitor your heart rhythm with FibriCheck. Setting up an account can be done in 3 steps. Follow the step-by-step instructions below to successfully create a FibriCheck account or check help.fibricheck.com for instructional videos.
# 4.1 Download the FibriCheck application
The FibriCheck mobile app can be downloaded from the App Store / Play Store. Open the App Store / Play Store, search for "FibriCheck" and download the app. A proper Internet connection is required to download FibriCheck. Once the download is complete, the app can be opened.
Fitbit-device: Open your smartphone's Fitbit App. In the Fitbit App, tap on your Fitbit device and go to 'All Apps'.
# 4.2 Setting up your personal account
Tap on the FibriCheck icon to open the FibriCheck app. Select "I am new" and follow the instructions as presented. When this procedure has been completed, a personal account is created.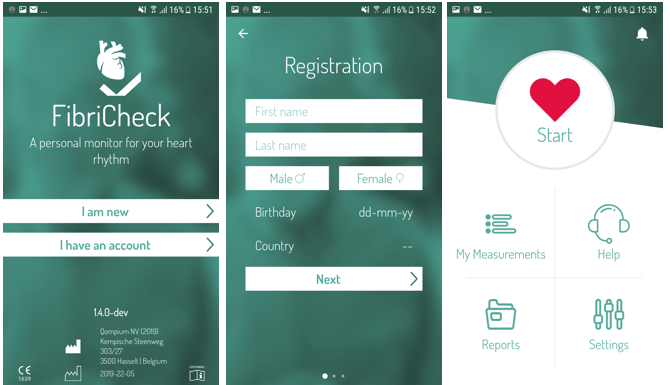 Fitbit-device: Tap on the FibriCheck application in the Fitbit App and tap 'Settings'. Here you can create your account.
# 4.3 Add your activation code
Once the account is successfully registered, you can add your invitation code, start a free trial or select a subscription plan to start measuring your heart rhythm. Tap the heart icon and follow the instructions presented.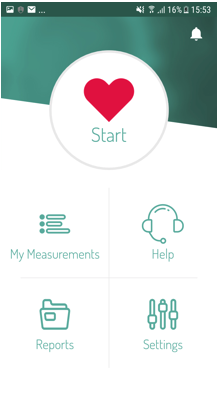 Fitbit-device: When you have created an account or when your are logged in, you can activate a subscription via 'Settings' in the Fitbit App.
# 5. A FIBRICHECK MEASUREMENT
# 5.1 Performing a measurement
As soon as you unlock the application, the home screen of FibriCheck is shown. Select "Start" to start a measurement. An instruction screen and instruction videos will show how to correctly perform a measurement. Place your (index)finger on the camera of the smartphone. FibriCheck will now detect your heart rhythm, this may take several seconds.
Once FibriCheck has started to record your heart rhythm, a visual graph is shown on the screen. A measurement takes 60s. It is recommended to perform 2 measurements per day and additional ones when feeling symptoms.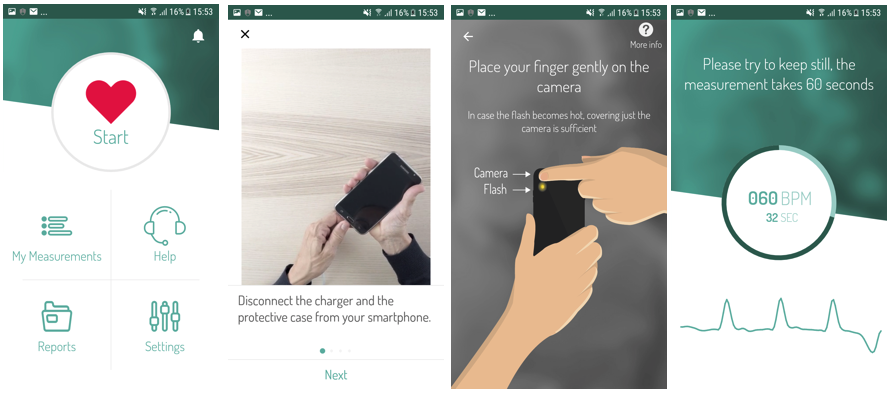 NOTE: If you get a pop-up message indicating an error in sending your measurement to your physician due to problems with Wi-Fi or Internet, the measurement will be automatically stored on your smartphone. Once the Internet connection is restored, the measurement is automatically forwarded.
It is very important to comply with the following when performing a measurement:
Make sure your hands and camera lens are clean;

Take a seated position and rest your arms on table;

Do not talk, move or relocate your finger during the measurement. This can interrupt the measurement or influence the quality of the measurement. In both cases, the measurement will have to be performed again;

Place your finger on the camera of your smartphone (it is not required to cover the flashlight of the camera).
Fitbit-device: Go to the FibriCheck application on the smartwatch.
# 5.2 After the 60 seconds measurement is completed
After completing the FibriCheck measurement, a context screen appears where more information can be added to the measurement. Please indicate what you were doing immediately before taking the measurement and whether you were experiencing any symptoms. This ensures that the medical professional will get a better view on the situation resulting in an improved analysis.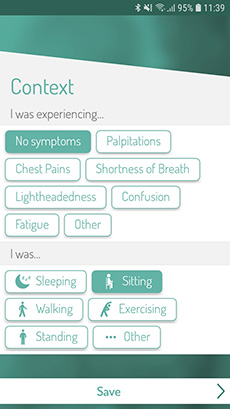 After every measurement, you will first receive an automatic interpretation by the FibriCheck algorithm about your heart rhythm. A pdf-file can be generated containing the results of your rhythm measurement. Results can be revised by an expert panel, if preferred. Later on, your health care provider or monitoring centre can overrule the FibriCheck interpretation.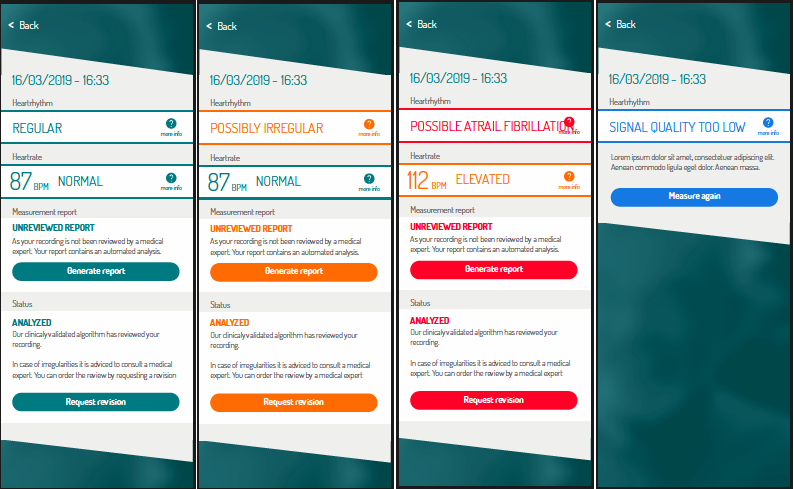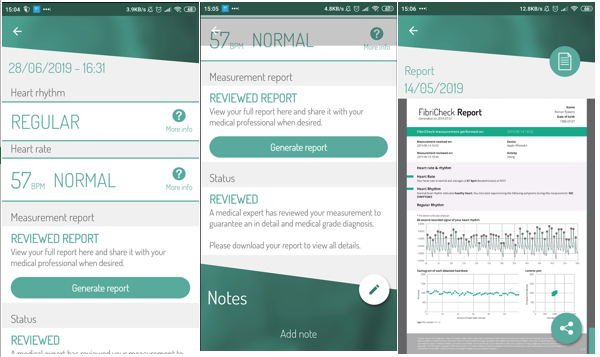 Caution: This analysis is not a diagnosis and does not replaces medical advice. Please seek professional medical assistance if you are, or believe you are, suffering from any medical problem. This device does not detect or monitor all heart rates, heart rhythms or heart waveform changes, especially those related to ischemic heart conditions. This interpretation is solely based on the PPG recording submitted for analysis.
# 5.3 Explanation of the rhythm classifications
Immediately, after a 60 second FibriCheck measurement, FibriCheck automatically interprets the signal. Possible outputs are the following alarms (low priority):
Green labelled as "Regular": indicates that a low variability in the heart rhythm was detected during the measurement. This is indicative for a regular rhythm. FibriCheck cannot guarantee that no arrhythmia is present when a measurement is labeled as green.

NOTE: Please consult with your physician before making any medical decision, including altering your use of any drug or treatment.

Orange labelled as "Possibly Irregular": rhythm variability is detected which might indicate possible finding of an arrhythmia such as ectopic beats, atrial fibrillation or any other arrhythmia.

NOTE: This analysis is not a diagnosis and does not replaces medical advice. Please seek professional medical assistance if you are, or believe you are, suffering from any medical problem.

Red labelled as "Possible Atrial Fibrillation": rhythm variability is detected which might indicate possible atrial fibrillation or atrial flutter.

NOTE: This analysis is not a diagnosis and does not replaces medical advice. Please seek professional medical assistance if you are, or believe you are, suffering from any medical problem.

Blue labelled as "Signal Quality Too Low": a recording where the quality of the recording could not be guaranteed and the user is prompted to try again. The insufficient quality could arise from a device deficiency or signal quality metric.
Please note:
Your physician or healthcare provider can overrule these interpretations.
The measurement is immediately analysed by the FibriCheck algorithm and, when subscribed in the doctor model, also shared immediately with your healthcare provider who can overrule the interpretation. This might affect the graphical alarm.
If you are connected to the internet, you can instantly see if the interpretation by the algorithm has been overruled. If not connected, you will be notified as soon as the connection has restored.
The confirmation by the healthcare provider is shown as a notification in the notification log in the app.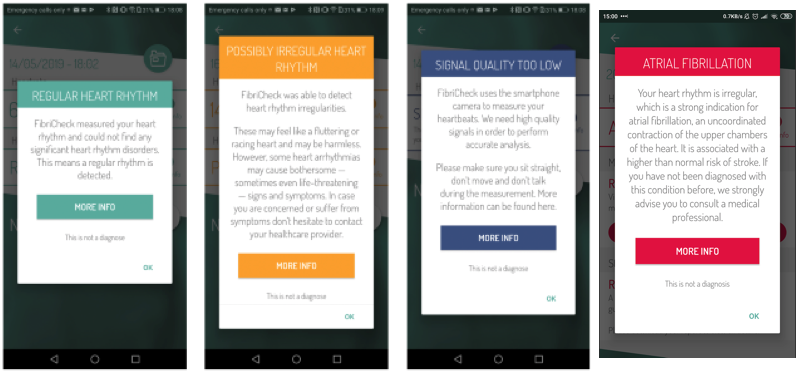 # 6. HOME SCREEN
# 6.1 The red heart: Start
How a FibriCheck measurement should be performed is described in Section A FibriCheck Measurement.
# 6.2 My Measurements
All your previous measurements can be consulted by selecting "Measurements". If you search for specific measurements, you can tap the filter icon on the right side of the screen. To filter:
Tap the filter icon on the right;

Choose one of the filters: green, orange, red or blue;

Only the measurements that meet the search criteria are displayed in chronological order;

You can switch off the filter by tapping the "x" icon when the filter criteria are displayed.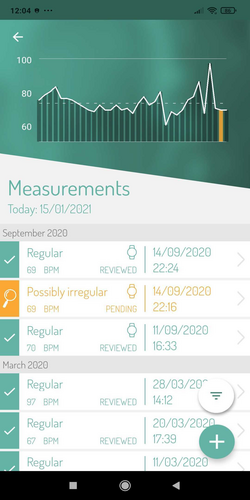 # 6.3 Help
In the Help section, supportive and educational information is provided. The section contains information like:
Instructions for use
Frequently Asked Questions (FAQ)
Information about Atrial Fibrillation
Contact
# 6.4 Settings
The settings page contains information about:
Personal information
Subscription
Reminders
Notification preferences
# 7. RENEWAL AND DISPOSAL
# 7.1 Expired subscription
To be able to continue using the FibriCheck app, you should activate a new invitation code. Add your invitation code, scan your QR code or add a new subscription to start measuring your heart rhythm. Tap the heart icon and follow the instructions presented to add an invitation code.
# 7.2 Terminate your subscription
For information about early termination of your FibriCheck subscription, please consult our terms of use.
# 7.3 Delete FibriCheck
Deleting the app on:
Android device: Open your device's Settings app. Go to Apps & notifications. Tap on the FibriCheck app, then select 'Uninstall'.
iOS device: Tap and hold the FibriCheck app until it jiggles. Tap the "X" in the upper-left corner of the app, then tap "Delete" in the dialog box that appears.
Fitbit-device: In the Fitbit App, tap 'My Apps' and tap FibriCheck. Here you can remove FibriCheck from your device.
NOTE: Deleting the app not only deletes the app, but also all of its data on the device.
# 8. HYGIENIC MAINTENANCE
There are no special cleaning measures required for FibriCheck, though measurements should not be performed when the camera lens is unclean.
# 9. CYBERSECURITY
FibriCheck uses industry-standard encryption protocols to secure all products and data in transfer and at rest. FibriCheck uses industry best practices. Detailed measurement data is only stored on secure, encrypted servers and not on the device of the user. These databases contain encrypted user data when at rest or in transit. A continuous backup system is used to make sure all data is secure.
FibriCheck does its utmost to guarantee your data safety. For you as FibriCheck user, it is very important to keep in mind the following recommendations:
Never share your FibriCheck credentials;
Use a secured Internet connection;
Only use compatible devices;
Do not use rooted or jailbroken devices;
Do not use emulators.
# 10. APPLICABLE SYMBOLS
Symbol
Detail
European conformity mark
Instructions for use are supplied electronically and can be found in the FibriCheck application.
Qompium NV
Kempische Steenweg 303/27
3500 Hasselt
Belgium
2021-03-12
Reference Federal law restricts this device to sale by or on the order of a licensed healthcare practitioner. (US only)
# 11. CONTACT DETAILS
For more information or questions, please check our FAQ at help.fibricheck.com.
# 11.1 Manufacturer
Qompium
Kempische Steenweg 303/27
3500 Hasselt
Belgium
# 11.2 Australian Sponsor
Emergo Australia
Level 20, Tower II
Darling Park
201 Sussex Street
Sydney, NSW 2000
Australia